The iMac
The iMac is one of the most significant advances in computing ever. It has given rise to a huge selection of incredibly ugly imitation systems which "think different" by thinking exactly the same: If you make a computer which looks like a disco ball, people will be drawn to it because the way a computer looks is its most important spec.
However, the iMac is not truly a fully "full-featured" computer. Why? Because it lacks some features which would make it full. Hence, I have decided to compile the following list of...
FEATURES WHICH SHOULD HAVE BEEN IN THE iMac, BUT WEREN'T
1. Three fragrances: Pine tree, spring rain, and lemon! Dramatically increase your productivity through advanced multitasking; Freshen your whole home while you compute!
2. Waterproof keyboard (for users who drool).
3. Actual coffee cup holder (You know that legend about the guy who thought his CD-ROM drive was a coffee cup holder? Well, the iMac could've used a REAL one. Then again, you could use its own CD-ROM drive as a substitute, since it's not like you could find any software which would run on it anyway.)
---
Now that you know what features the iMac should have had, you might also want to know some...
USEFUL USES FOR AN iMac
1. Basketball practice. I really improved my slam-dunk by tossing my iMac into the garbage can.
2. A picture is worth a thousand words...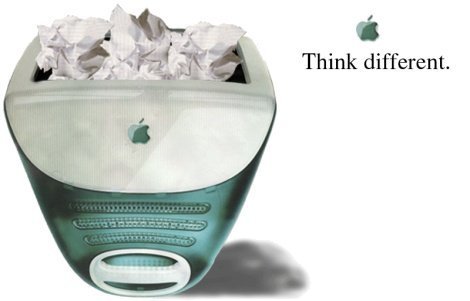 3. iMacs are heavy. If you hit someone on the head with one, it can be used as a personal self-defense weapon.
(Thanks to shufler for the following two suggestions:)
4. One word: Bonfire.
5. Graphic Design/Creation and Photo Manipulation. ... Wait... HAHAHAHAHAHAHA!!!
(Thanks go out to Nielson for the following two suggestions:)
6. they make good boat anchors (what else would the handle be there for??)
7. they are easy to upgrade, on a pc you have to get the case off and pull the part out and replace with the new part, skip all that hassle if you own a mac the only way to upgrade it is to sell it and buy a new one.
---
(As you can probably tell, this page started as a simple idea I had, and didn't progress much beyond that stage. Oh well. If you have suggestions for additions, e-mail me.
iMac is a trademark of Apple. Apple is also a trademark of Apple. Tragically, however, ugly semi-transparent computer cases are not.